v slicer
V slicer cuts time it takes to chop and slice in half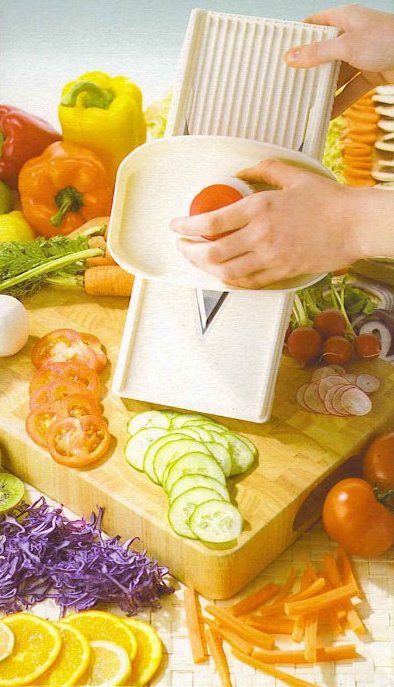 The v slicer is one of the most versatile kitchen aids you can buy.
You can slice even the most difficult fruit and vegetables -thick or thin - in half the time! Its speed and precision cutting maintains more of your food's essential vitamins.
The blades of the v slicer are very sharp, so use the food holder enclosed to protect your fingers, especially when slicing small fruit and vegetables.
Simply press the Food Holder against the fruit or vegetable.
4 spikes will hold it firmly in place.
Then slide it up and down the runners taking care of your fingers.
When slicing large fruit and vegetables, simply feed them through the v slicer by hand until the dimensions are small enough to fit onto the Food Holder.
v slicer guarantee
This product is guaranteed with refund on return for one year against all defects of workmanship and materials. ths guarantee does not affect your statutory rights
How to use your v slicer
Easy! Just look on each blade and it tells you whether it slices
thick strips

thin strips

thick slices

thin slices
Then simply swap the blades around to cut the shapes and sizes you want
Important v slicer safety information

If you are comparing v slicers, this one comes with a locking mechanism. Others on the market have blades which may slip around when in use.
For smaller fruit and vegetables, always use the food holder.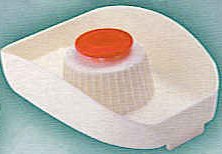 The v slicer food holder has 4 spikes to hold your fruit and vegetables firmly in place.
Now you can slice even the finest left over parts without any danger of injuring yourself.
How to clean your v slicer
Simply rinse under the tap. Never touch blades with your fingers. Always use a dish brush to dislodge stubborn fruit and vegetables and leave it to dry naturally. Do not use in the dish-washer Do not expose to temperatures over 50°C

Chops and slices large and small fruit and vegetables

Hygenic stainless steel v slicer blade made from toughened moulded polymer

includes special food holder for safety

Easy to clean